Cuatro brazos
Four Hands
Exhibition - 2014
Original piece - Available
Deseo que se haga realidad el monstruo imaginado, aquel que a la media noche del quinto día saca sus cuatro brazos que no descansan, de veinte dedos que no dejan de moverse, que sin parar arrancan de la carne todo aquello que germina, para evitar la maleza y que las hojas verdes se sequen con el tiempo.

I wish the imagined monster come true, the one who at midnight on the fifth day pulls out his four arms that don't rest, twenty fingers that don't stop, that tear from the flesh everything that sprouts, to prevent weeds and green leaves from drying out overtime.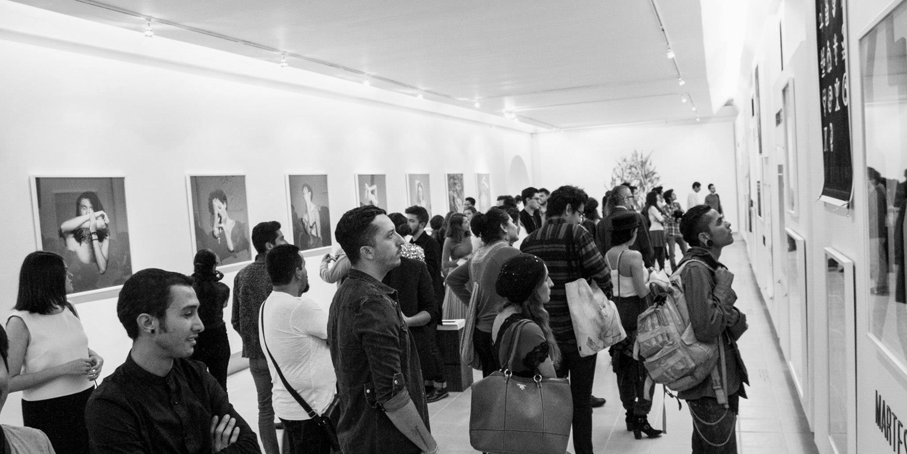 ---
---
Nota / Note
Pieza realizada para la exhibición colectiva "Semanario", en la galeria
Laboratorio de Arte Jorge Martínez
. Los expositores mostraron con diseño, fotografía, ilustración, video y cuentos cortos, su manera de interpretar los días de la semana y el paso del tiempo. Primera ilustración que realizaba en formato grande y en un tiempo donde las madrugadas se convirtieron en una tortura para mis manos, lo cual me llevó al texto creado para explicarla y darle razón a los elementos, un enorme monstruo que me ayudara a terminar lo antes posible para poder dormir.
Agradecimiento especial a Rocca Luis César por la invitación y a Dulce por ayudarme a transportar el rollo gigante de papel.
Piece made for the collective exhibition "Semanario (Weekly)", at the Laboratorio de Arte Jorge Martínez. The collaborators showed with design, photography, illustration, video and short stories, his way of interpreting the days of the week, and the passage of time. First illustration that I did in a large format and in a time where the mornings became torture for my hands, which led me to the text created to explain it and give reason to the elements, a colossal monster that would help me finish what as soon as possible to sleep.
Special thanks to Rocca Luis César for the invitation an Dulce for help me to transport the piece.
---

Más información / More information

https://vimeo.com/108312528
https://coolhuntermx.com/semanario2014-gdl/
https://www.informador.mx/Cultura/Una-plataforma-para-disenadores-y-artistas-jovenes-20141021-0185.html